Julie Leatherbarrow:
Julie Leatherbarrow has practiced yoga for 18 years and made a life long dream come true in 2012 by getting her certification through Yogakids, an educationally based Hatha yoga program for children. Julie wanted to deepen her knowledge and understanding of yoga and continued her education at the Himalayan Institute of Buffalo, earning her 200hour certification in May of 2015 and is currently working on her 500hour certification at HI. Bringing a youthful spirit into all of her classes, Julie believes in fully experiencing the joys of life, no matter the age. As the founder of Budding Tree Yoga and the Budding Tree Yoga Festival, Julie wants to share her love of yoga with others and assist them in returning to their natural state of being at peace.
Julie offers private instruction and small group classes, as well as professional development workshops for educators. For more information, please call, (716) 957-9809 or email, Julie@buddingtreeyoga.com 
Jennifer Stern : 
Jen is a RYT-200 Level Yoga Teacher and a Certified Ayurveda Yoga Specialist.  She is registered with Yoga Alliance, and completed her training through the Himalayan Institute in Buffalo, NY.  She has personally practiced yoga since the late 1990's.  She is also certified in CPR/AED and 1st Aid through the American Red Cross.
Jen offers private and group instruction in Hatha Style Yoga, ranging from Beginner Level to Intermediate, as well as Gentle/Restorative.  Ayurveda consultations are available to further assist clients with a more tailored personal practice of yoga, as well as lifestyle/diet changes that offer support to the mind/body/spirit.
Currently teaching in private, corporate and studio settings throughout Western New York, she enjoys sharing yoga and Ayurveda with students, helping them discover the many benefits of practice on the body and mind.  She emphasizes breath awareness, proper alignment, and relaxation in her classes.
Erin Szwajda: 
Erin's yoga journey began after her mom was diagnosed with MS. She was misdiagnosed many years prior. Throughout the years she endured many hardships. As Erin was frightened and confused, she began research on the illness. To her surprise almost every article discussed the benefits of yoga to MS patients. That was enough for her to start learning about yoga. She began a solid home practice with hopes to help her mom.
About six months later she attended her first group yoga class, with Julie Leatherbarrow. Erin left the class with a sense of calm. Something had happened in that one hour that cleared her mind of worries. She was hooked!
A few months later Erin needed an appendectomy. After her surgery it took some time to get back on the mat. When she was able to practice again, it all made sense. Yoga meets you where you are. All of a sudden the healing benefits were upon her. She was able to find inner peace and a quiet mind even if she could not do downward dog. At that time she knew she needed to share this gift.
Erin attended The Himalayan Institute teaching training program and completed her 200hr certification in May 2016. She is forever grateful for her teachers, their wisdom and insight, her classmates, and everyone who has supported her along the way. Erin is well aware of the healing powers of yoga, especially the undeniable amount of self-love and acceptance that yoga provides.
Since graduating she has been teaching gentle yoga classes at a local church. She also volunteers monthly at The Buffalo Peace House, and teaches private to semi private classes weekly for people with specific concerns. Erin feels truly blessed to share this gift and has a passion to continue on this journey. She considers yoga to be her companion, who can always provide a sense of stillness and inner peace. To find the calm, even in chaos. Yoga is a gift that keeps on giving. Namaste!
Sharon Huber 
My yoga journey began while I was looking for more variety in my exercise regiment and a way to de-stress from work.  My husband had used yoga for years for relief from back pain. The benefits he received from his practice were undeniable.   I had no idea the yoga classes would turn into a lifelong commitment to the practice of yoga.  The practice of yoga for both the mind and body was so transformative that I wanted to pass on the benefits to others so I attended and completed the 200hr teacher-training program in 2015 at the Himalayan Institute in Buffalo, NY.  I have taught yoga in my local community since then and have recently joined the teaching staff at Budding Tree Yoga!
Mary Ann Drake 
Having taken up yoga while living in London in 2006, I became instantly connected to how the body and mind work together. Mentored and encouraged by my yoga teacher, I returned to the States and incorporated yoga into the many fitness classes taught at the YMCA for the next 10 years. A self-learner and educator, I wanted to understand the deeper meaning of yoga. In 2017, we returned to London for a 15-month assignment where I was provided the opportunity to enroll in teacher training and earned my 200-hr certification through Yoga London, a premier teacher training school recognized worldwide by Yoga Alliance and I started teaching in London at a corporate workplace. Trained in Vinyasa Flow format, the foundation was based on the primary series of Ashtanga yoga used in many practices. The blissful blending of energy, heat and calmness through breath and movement is what draws me to this practice. What yoga provides to the mind, body and spirit is what keeps me in the practice.
On the mat, my goal as a yoga teacher is to help others become aware of the simple things like the joy in movement, the power of breath and the calmness and clarity they provide when merged together. On the mat, I will provide encouragement and opportunities for growth to create a greater confidence in one self. Off the mat, I endeavor to maintain the integrity of the practice by living a life of values set through the Yoga Sutras.
Jesse Reino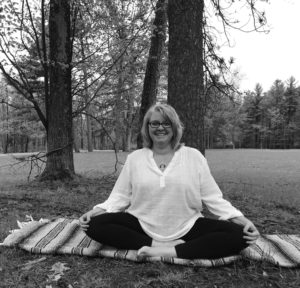 Jessie has been practicing yoga for 7 years. She has a calm presence and a compassionate, approachable style to her classes. She recently completed her 200 YTT at the Himalayan Institute in Buffalo, NY. She plans on continuing her education both with online courses and local workshops and classes.
When you come to her class you can expect a slow and nurturing pace. Her focus is on incorporating the breath with slow, gentle movements and restorative postures. Her desire is to create a safe and inclusive yoga practice for everyone that comes to her classes.
Some of her other interests include spending time with her family, cooking, her cats (all animals), reading, music and art.