Welcome to the Budding Tree Yoga Festival 2017! In partnership with the Himalayan Institute of Buffalo, East Meets West Yoga Studio, and sponsored by Wegmans, Mindful Market, Coyle Chiropractic, Simply Yoga, Harisa Wellness Center and Kiddie Corner Daycare, we are excited to bring you a day of FREE yoga classes with health/wellness workshops and a vendor market. The Budding Tree Yoga Festival will be held at Riverworks, 359 Ganson St. Buffalo, NY. Our festival will be held outside under the roof in the big ice rink. During the summer months, the rink is covered with astro turf, making it the perfect place for yoga! Having the roof means we will be protected no matter what the weather brings on the day of our festival! Whoo-hoo!
To be a vendor at our yoga festival, please download the application below. You can scan it into your computer and email it to, Julie@buddingtreeyoga.com or mail it to the address on the application. 
WHAT TO BRING 
Please bring a yoga mat and wear comfortable clothes that are suitable for movement. Keeping the environment in mind, please do your best to avoid plastic water bottles and bring water in a reusable water bottle. There is parking at Riverworks as well as in lots along Ganson St. 
Budding Tree Yoga Festival 2017 Schedule
Lake Stage      945 Opening Ceremony led by Tracy Draksic
10am Tracy Draksic Full Moon Meditation
11am Julia Kress Hatha Yoga
12pm Kristen Thomas Bhakti Beats
1pm Lidia Snyder Yoga for Trauma Relief
2pm Melissa Kleehammer Yin Yoga
3pm Erin Tracy Gentle Yoga
River Stage
10am Leigh Vinyasa Flow
11am Julie Leatherbarrow Kids and Family Yoga
12pm Lunch Break!!!
1pm Gaitrie Subryan Breathing Through Movement
2pm Kerry Mitchell Yama and Niyamas
3pm Lauren Benson Outer Order to Inner Calm
Creek Stage
10am Jen Stern Beginner Yoga
11am Karen Hansen Yoga and Pilates
12pm Megan Callahan Heart Opening Flow
1pm Sarah Guglielmi Chakra Flow
2pm Carrie Jacobson Vinyasa Flow
3pm Sofia Clark Kundalini Yoga
Here is a quick map of the site:
MEET THE INSTRUCTORS:
JULIE LEATHERBARROW  RYT 200/YKCT 
Julie Leatherbarrow  has practiced yoga for 17 years and made a life long dream come true in 2012 by getting her certification through Yogakids, an educationally based Hatha yoga program for children.  Julie wanted to deepen her knowledge and understanding of yoga and continued her education at the Himalayan Institute of Buffalo, earning her 200hour certification in May of 2015.  A big believer in continuing education, Julie started her journey in the 500hr program at the Himalayan Institute in March of this year. Bringing a youthful spirit into all of her classes, Julie believes in fully experiencing the joys of life, no matter the age. As the founder of Budding Tree Yoga (2151A Transit Rd. Elma, NY) and the Budding Tree Yoga Festival, Julie wants to share her love of yoga with others and assist them in returning to their natural state of being at peace. 
Julie's Class: 11am Yoga for Kids! Yoga for Kids is an educationally based yoga program where the children will learn integrity, honesty, compassion, and self-awareness. The class structure brings the children together by age groups and incorporates reading, language, math, environmental studies and social studies with movement. While the yoga poses are important, they do become secondary, as we don't expect 3 to 5 year olds to stand in a pose for 2 minutes. They may not even want to stay on their mat that long! What is most important is that the children learn in a fun and creative way. This class is appropriate for ages 3-10.
Jennifer Stern RYT-200/Ayurvedic Specialist
Jen is a RYT-200 Level Yoga Teacher and a Certified Ayurveda Yoga Specialist.  She is registered with Yoga Alliance, and completed her training through the Himalayan Institute in Buffalo, NY.  She has personally practiced yoga since the late 1990's.  She is also certified in CPR/AED and 1st Aid through the American Red Cross. Currently teaching at Budding Tree Yoga, she enjoys sharing yoga and Ayurveda with students, helping them discover the many benefits of practice on the body and mind.  She emphasizes breath awareness, proper alignment, and relaxation in her classes. 
Jen's Class: 10am Beginner Yoga- Beginner Yoga is for students who are new to the practice or for those who want or need to review the basic postures and breathing techniques. The focus will be on the proper foundation of the poses, link alignment with a concentration on the breath.
Erin Szwajda RYT-200
Erin attended The Himalayan Institute teaching training program and completed her 200hr certification in May 2016. She is forever grateful for her teachers, their wisdom and insight, her classmates, and everyone who has supported her along the way. Erin is well aware of the healing powers of yoga, especially the undeniable amount of self-love and acceptance that yoga provides.  Since graduating she has been teaching gentle yoga classes at Budding Tree Yoga. She also volunteers monthly at The Buffalo Peace House, and teaches private to semi private classes weekly for people with specific concerns. Erin feels truly blessed to share this gift and has a passion to continue on this journey. She considers yoga to be her companion, who can always provide a sense of stillness and inner peace. To find the calm, even in chaos. Yoga is a gift that keeps on giving.
Erin's Class: 3pm Gentle Yoga-Gentle Yoga is for those who are new to yoga or for those who have a specific concern that needs to be addressed. Students will learn how to stretch while strengthening the body gradually with an emphasis on building internal awareness
SARAH GUGLIELMI 
Sarah Guglielmi MS, E-RYT, Certified Ayurvedic Health Counselor
Sarah Guglielmi is a professional educator and clinician in the fields of yoga, meditation, and ayurveda. She was initially drawn to yoga over 15 years ago, while working as a product development engineer, and looking for relief from chronic stress and illness. Sarah has not only regained her health, but discovered a deeper dimension to life she finds rich and inspiring. Her overarching intention is to make the therapeutic power of yoga and ayurveda accessible and transformative for her students and clients. Sarah has served on the faculty of the Himalayan Institute and Yoga International for the past 10 years and has taught numerous workshops on yoga, yoga philosophy, subtle yoga energetics, meditation, stress management, yoga therapeutics, and ayurvedic lifestyle. She travels nationally as a teacher trainer for the Himalayan Institute's Yoga and Ayurveda Professional Certification Programs. After completing her 200-hour teacher training with the Himalayan Institute in 2002, she lived in residence for 10 years at its Pennsylvania headquarters, where she studied directly with Pandit Rajmani Tigunait, Rolf Sovik, Sandra Anderson, Shari Friedrichsen, Rod Stryker, Kathryn Templeton, Dr. Carrie Demers, Mary Cardinal, and Dr. Rosy Mann. She is deeply grateful for the authentic and masterful training she continues to receive from this profound lineage. Prior to joining the Himalayan Institute, Sarah was an engineer with W. L. Gore and Associates, and holds a master's degree in materials engineering from the University of Delaware. She currently resides in Buffalo, NY, where she serves on the staff of the Himalayan Institute of Buffalo and as an adjunct faculty member of Daemen College.
Sarah's Class: 1pm Chakra Slow Flow: Ground, Strengthen, and Radiate! Join Sarah for a slow flow journey through the chakras. Chakras are energy centers in the body that carry the pranic (life force) intelligence of physical stability, mental strength, and radiant joy! This all levels asana practice will support proper function of these centers. We will ground through the pelvis and legs, strengthen the core (called the pranic hub), and create supportive space for the heart and throat. Leave feeling refreshed and inspired!
Tracy Draksic RYT-200
Tracy began her formal study of yoga at the Himalayan Institute in 1998. After many years of hatha yoga practice, she began expanding her interests into yoga philosophy & psychology, meditation, and Sanskrit. She completed the Institute's teacher training program and became a certified instructor in 2010. Many opportunities followed for further teacher education in Toronto, Hamilton, and Honesdale, PA. Tracy manages the company web site at HIB and serves as a member of the teacher training faculty. She received a B.A. in French Literature from Wells College and an M.A. in Linguistics from SUNY Buffalo.
Tracy's Class: 10am Start your day relaxed and grounded. Join Tracy for gentle movement and relaxation exercises followed by the chanting of Gayatri Mantra – mantra to the sun as creator. Allow the eternal light to fill your body and consciousness as we conclude by sitting together in silent meditation. No previous experience with the mantra required.
Lokas samastas sukhino bhavantu: "May the whole world attain peace and harmony."
CARRIE JACOBSON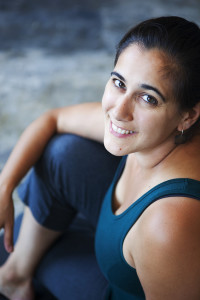 STUDIO MANAGER/TEACHER – VINYASA, YIN FLOW
My yoga practice began as an outlet for physical activity. I was a swimmer for much of my young life and in college, swim practice was my meditation. After graduating, I found that I missed those hours I spent immersed in water, connecting movement and breath, completely engaged in my own in my body. I started yoga in order to move in a new way, but realized it filled the hole that had previously been occupied by swimming. The process of turning inward, focusing on the alignment of my body and moving with the breath, allows me the opportunity to rest my mind. It is from that perspective that I structure my classes. I began teaching in 2008 and completed my 200-hr teacher training certification with The Himalayan Institute in Buffalo, NY.
Carries Class: 2pm My classes, like my own practice, begins slowly, with the intention of opening areas that need attention. I create a sequence that combines challenging poses with easier counter poses, using the breath to transition between them with grace and ease. I enjoy the opportunity to settle in to a pose to see what may arise and allow for the body to adjust. I like to give students time toward the end of class to explore their own practice and I frequently end class with a yin pose – holding a seated or reclined shape for an extended period of time.
KRISTEN THOMAS, MD.
From an early age, Kristen recognized the intimate connection that exists between the body and the mind. With a background in dance instruction and performance, as well as a doctorate in medicine, she has witnessed time and again how we can find healing and joy in becoming more mindful of the internal rhythm and beat of our daily lives. A lifelong seeker of truth and knowledge, Kristen found herself naturally drawn to yoga not only for its many health benefits, but also for the deeply practical and insightful wisdom found in the yogic scriptures. Her personal practice has a strong foundation in Ashtanga yoga, yet is balanced by the free flow of a regular vinyasa style. As a teacher and as a DJ, she has a special interest in the healing nature of sound within our yoga practice, believing that each of us lives our own unique song daily through the beating of our hearts and the rhythm of our breath. Kristen founded FLOAT Yoga in 2013 and began Buffalo's first yoga brewery classes, Bhakti, Beats & Brews, in 2014 in partnership with Resurgence Brewing Company. FLOAT Yoga is proud to foster an ever-growing, inclusive and diverse community of yogis who come together to celebrate their practice and the joy that it brings to our lives at social events all over Western New York.
Kristen's Class 12pm
JULIA KRESS
Julia Kress started her yoga practice with the Himalayan Institute of Yoga Science and Philosophy in 1990 in Buffalo, NY. Soon she moved to the ashram in Honesdale, PA to intensify her studies through immersion of the life style. There she learned the subtle art of yoga therapy through working with various populations and the Science of Ayurveda through working in the vegetarian kitchen and The Center for Health and Healing. She has her E-RYT 500 hour certification, a BA in Exercise Science, is certified as an Advanced Ayurvedic Yoga Teacher Specialist, and completed 4 courses in working with Disabilities and Yoga including Yoga for the Visually Impaired and Deaf. Julia currently is Administrative Coordinator of Teacher Training at the Himalayan Institute of Buffalo, teaches all levels class's, meets with private clients of all abilities, and works with two Universities bringing Yoga and Ayurveda to college students. 
Julia's Class: 11am
KERRY MITCHELL M. A. E-RYT 200, RYT 500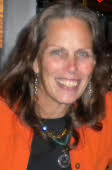 Kerry has been practicing yoga since the early 90's and teaching yoga at the Himalayan Institute since 1995. She is a graduate of both the Himalayan Institute's Teacher Training Program (200 and 500 hour) and Meditation Training Program. Foremost among her other programs of yogic study is the Living Tantra program with Pandit Rajmani Tigunait along with several extended practice intensives at the Himalayan Institute's centers in Honesdale, PA and in India.  In 2014, Kerry joined the faculty of the Himalayan Institute's Teacher Training program in Buffalo.  Following a 25-year career in international affairs, Kerry is now focusing her time and attention on the study and teaching of yoga and restoring a few of Buffalo's wonderful old homes.  
Kerry's Class at 2pm: The Yamas and the Niyamas:  Yoga's Guidelines for Spiritual Growth The yamas and the niyamas help to guide us toward a deeper understanding of self and a more loving and compassionate approach to relationship.  These fundamental principles for purifying  the mind help to bring greater energy, focus and joy both to practice and to life.  Join Kerry for a discussion of these ever-relevant principles first outlined around 400 CE in the Yoga Sutras of Patanjali, a foundational text of classical yoga philosophy.   Mats not required. 
Lauren Benson RYt-200/Certified PreNatal Instructor
Owner & Founder of Veda Yoga Space
Lauren is well trained in hatha yoga and currently specializes in private instruction. She offers outdoor community classes throughout the summer months at various green spaces in her hometown, Buffalo, New York. Certified through the Himalayan Institute, Lauren has been teaching for a decade, combining graceful flowing sequences with foundational elements of physical and energetic alignment, mindful breath work and deep relaxation. Lauren came to yoga searching for a healing modality to address chronic back and neck pain. This life changing practice has helped her learn more about the physiological aspects of the body and pain management, as well as the more subtle energetic and spiritual aspects of Self. While continually seeking and sharing new means of Self-growth and evolution toward greater health and well-being, her views on life always seem to include yoga, a whole-foods plant-based diet, and so much love & gratitude. Through VEDA Yoga, Lauren hopes to inspire authentic connection and true transformation within her community and beyond based on the belief that everyone has the potential to radiate well-being.Lauren nests in Buffalo, NY mothering three magical little fairies with her incredible husband.
Lauren't Class: 3pm Outer order brings inner calm: a flowing practice focused on the mood boosting power of structural alignment. You've heard that outer order brings inner calm and that inner calm makes it easier to create outer order. Have you ever observed posture and mood intertwine in this way? How we hold our bodies physically can deeply affect how we feel on the inside. Power posing, anyone? Our delicate emotional state is tied to our energetic state, which is influenced by the many postures we embody throughout the day. Flowing through a yoga practice with mindfulness, we pause to observe the energetic alignment that is foundation of each pose, we feel the posture internally just as intensely as we might express it externally. We engage in a Self-transformative practice, altering the ways in which we hold ourselves in order to change our moods, and then allowing our positive moods to support positive postures. These break through moments of feeling our own physicality and energy metamorphose, open our eyes. The intricacies of the body form an intuitive feedback loop- inner influencing outer and outer influencing inner. Join me in this all levels hatha-based practice as we allow our yoga to be the catalyst for positivity, peace, strength and balance.
Sofia Clark

As a child, Sofia was always interested in the beauty and flow of nature. She found enjoyment just being in it. That passion became her education as she found herself graduating from an environmental studies program, then becoming a community organizer working on environmental issues and familiarizing herself with the national parks along the way. She is a graduate from SUNY Environmental Science and Forestry, and for several years traveled to various states as a community organizer, working on environmental issues. In 1998, she began her study of Hatha Yoga at the Colorado School of Yoga and realized it was the perfect way to relieve stress in her life. In search for a place to continue her studies, she stumbled upon a Kundalini Yoga Studio in Austin Texas based on the teachings of Yogi Bhajan (3HO~ Happy, Healthy, Holy Organization). At this point, she began a daily practice which led to a greater awareness of her self, positive transformations and a deeper connection with yoga. She continued her Kundalini training with Siri Naryan Kaur enrolling in a 200 hour teacher training course that she completed in 2010. She loves freestyle dancing and Kirtan, has been teaching Kundalini to friends and family for four years, and is amazed everyday how the Science of Yoga helps shape a healthy, happy, holy lifestyle. Her biggest gifts are her two wonderful sons who are the light of her life and keep her very active in her community.
Sofia's Class: 3pm A system of yoga exercises and meditation that promotes health and spiritual awareness. It is a complete science that combines postures (asanas), movement, sound current (mantra), breath (pranayam) and meditation into powerful sets called kriyas. It is designed to provide you with an experience of your highest consciousness by raising your Kundalini.
Melissa Kleehammer
Melissa is a traditional yogi to the core, so you will experience physical, emotional and spiritual bliss in her classes!  You will get a yoga class full of alignment cues and anatomy tips to help clear pain and to gain a greater understanding of your body so that you can prevent pain; you will also receive yoga philosophy, spiritual guidance and meditation techniques to deepen your relationship with your Divine & your higher Self. From Melissa's experience of being lost and unfulfilled, she will work with you to feel a deep connection to your body, mind and breath that has been lost and help create a new sense of aliveness for your life!
 Melissa's Class:2pm Yincoming! Greater range of motion, younger looking skin, a new way to release toxins, renewed feelings of non-attachment and contentment, and greater respect for your body…this class will drop all of that in your lap + poses will be paired with pranayama, Kirtan, mudras, mantra and meditation, as a way to experience Yin on a deeper level. Every pose offers a different intention and challenge for your physical, mental and emotional body, so this pairing allows you to tap into the deep well of spirituality and inspiration within.
Leigh Fox 
My yoga practice began over 15 years ago.  It began as a physical practice; a way to feel good while raising my family.  However, very quickly it became something much bigger for me.  I found a connection between placing my body in certain positions and the sense of well being that I felt when I finished.  Practicing yoga brought me physical comfort and mental peace.  Yoga has been the impetus for years of self-exploration and self-discovery.  My own yoga practice continues to unfold in a way that is both amazing and humbling.  Yoga makes me a better mom, a better wife, and better human. As a teacher, I encourage students to use their yoga practice as a way to discover the body, mind, and spirit.  I encourage folks to listen to their own bodies and decide what they need from their practice.  My intention is that people build strength and move their bodies with more ease.  I hope to guide students on a path of self-discovery through connection to their breath.
Leigh's Class:  10am During this class, you can expect an accessible, yet challenging, Vinyasa sequence. There will be an emphasis placed on energetic and physical connections within the body. We will work to quiet the mind by moving on the breath and by remaining still in various poses.
Gaitrie Subryan
Gaitrie Subryan is a certified 200RYT yoga instructor who completed her certification in October 2015 through East Meets West in Buffalo, NY. My love for yoga began over 10 years ago; it started as a way to heal myself from an injury sustained through dance and to help make my body feel stronger. Although I was looking for a quick way to get better I didn't realize that it would become something that I would be so passionate about. After an unfortunate time in my life, I dug deep into my practice, spending many days inside the yoga studios of New York City searching for something. What I found was a blessing, those years gave me the chance to step out of the asanas and indulge into a stronger self-awareness of the mind. My desire is to share my passion, love, and journey and I believe that the body is a piece of art, and to maintain the beauty of it is to continue to work at it. 
Gaitrie's Class: 1pm Breathing Through Movement This class is a mixture of a Vinyasa style flow with some longer holds. Providing alignment and other body centering cues, yet encouraging you to feel your way through the practice from the inside out. While the basic structure of the class is geared towards a moderate level, you are welcome to make the class as gentle or as challenging as you like.
Lidia J Snyder, LMSW, RYT-200, TCTSY-F
Lidia turned to yoga and meditation in the late 1990's while trying to start a family. She realized yoga's transformational capacity and is a devoted practitioner who became a RYT-200 hour Certified Instructor in 2013. Her teaching is grounded in the ancient Yoga Sutra's of Patanjali allowing each student to arrive at a place of strength, will and steadiness combined with ease, acceptance and comfort. Drawing on her background as a licensed social worker, Lidia offers a welcoming experience that meets each student "where they are". She teaches Hatha yoga in the Himalayan tradition and is a 300 hour certified facilitator for Trauma Center Trauma Sensitive Yoga, an empirically validated treatment for PTSD and Complex Trauma through the Trauma Center at the Justice Resource Center in Boston. Lidia teaches both traditional and treatment-oriented sessions across Western New York for individuals, groups, and organizations. She lives in Buffalo with her husband, son and dog.
Lidia's Class: 1pm Yoga is an ancient practice that is being more widely introduced into main stream healing professions. Trauma Center Trauma-Sensitive Yoga (TCTSY) is recognized as an evidence-based adjunctive treatment for complex, developmental trauma or chronic, treatment resistant PTSD by the Substance Abuse and Mental Health Services Administration of the United States. This practice promotes a sense of safety, relaxation and emotional self-regulation. During this one hour session you are invited to embark on an inward journey of noticing, sensing, and making choices in the present moment. No hands-on adjustments or pranayama. No prior yoga experience required.
Karen Hansen RYT-200
Karen has been practicing yoga for almost 20 years she completed her formal studies at the Himalayan Institute earning both her 200 Hour Teacher & Ayurvedic Yoga Specialist Certification (AYS). She continues her formal studies and will complete her 500 Hour Yoga Teacher Certification through HI in September of 2018.
She opened Sun Moon Yoga & Wellness in Jamestown, NY in 2015. In addition to group classes, private clients and volunteer work, she teaches Lakeside Yoga at Chautauqua Institution during the summer season.
Karen's Class at 11am: Yoga & Pilates @ the Core. Building strenth, awareness and balance at the core is a must for a well-rounded and safely sustained yoga practice. Whether your building your Crow or extending your meditation practice the core plays a fundamental supporting role. Learn how to activate and strengthen the muscles of the pelvis and abdomen in order to build skill and competency and to support the deepening of your practice.
Megan Callahan
Megan's sacred path began early in life. She knew as a young child that she was meant to be a healer and teacher. She loves to work with people to help them become more connected to and aware of their bodies' innate wisdom and potential. She found her way to yoga as a young teen ago to help with a serious physical condition, and continues to be amazed and humbled by what is discovered on the mat.  She has been teaching for over a decade, and is the owner of Yoga Parkside, a studio in North Buffalo housed within Parkside Lutheran Church, and manages OWM Yoga Downtown inside of Osteopathic Wellness Medicine. She has been leading kirtan for 8 years and is part of a local kirtan group called "Lila Mandala." Every Tuesday, Yoga Parkside hosts "Tune in Tuesdays" a kirtan and satsang gathering that all are welcome to. Megan is also a Reiki Master-Teacher, musician, and energy worker. She combines her philosophy of energy work into her classes, working with compassion and love as the universal life force is strengthened and balanced. Her classes also often include chanting, unique sequences and self-inquiry using yogic and buddhist principles.
Megan's Heart Opening Class is at 12pm! 
If you are interested in becoming a sponsor for this event, please, email Julie@buddingtreeyoga.com
A HUGE THANK YOU GOES OUT TO OUR PARTNERS AND SPONSORS!!!
www.hibuffalol.com                                                                          http://www.eastmeetswestyoga.com
http://www.coylechiropracticwny.com                                                    http://kiddiecornerchildcare.com
http://www.simplyyogawny.com                                                     https://www.wegmans.com
http://mindfulmarket.com